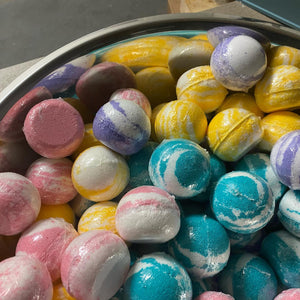 Bath Bombs Fizzys (vegan)
Our bath bombs with hug your body with moisture and the aromas of lemongrass, coconut, mango and more will take you away!! 
Made with all natural ingredients our bath bombs are perfect for kids of all ages! Simply drop into warm water, you'll see them fizz and spin and then you will be enchanted by the tropical aromas!
Gentle enough to be used daily
no perfumes or dyes
plant based ingredients
moisturizing
natural aromatherapy 
Leaves skin silk smooth
Our bath bombs are individually handcrafted. 
Ingredients :Bicarbonate of soda, citric acid, corn starch, Organic Avocado oil, essential oil/fragrance oil, vegan color
Keep in a dry place, as soon as they hit water they will start to fizz. 
Just layback and FULLJOY!